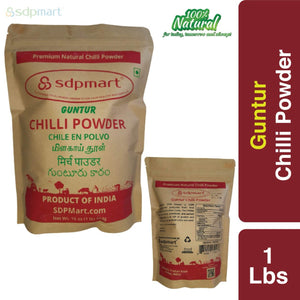 SDPMart's Chilli Powder is 100% natural and procured directly from the local farmers in Southern India. The Chillies are sun dried, powdered, and packed hygienically. It is rich in protein and Vitamin C. No artificial colors are used.
SDPMart Chilli (Red Pepper) is grown from different parts of south of India (Guntur, Andra; Byadgi, Karnataka). Different varieties of Chilies are mixed and grinded in a proper proportion to produce good spice, flavor and color. Chilli powder is basically used in lot of Indian cooking, essential in different curry dishes. Chilli powder is very sensitive to sunlight and should be stored in a dark place. Red Chilli powder can set the taste buds on fire; It is basically a spice blend consisting of one or two types of dried red chilies that are ground and pulverized into a fine powder. 
Nice product
The flavor and color is so appetizing... The chilli powder standard matches the standard of the home made masala..